About the author
Posted by : JB
Wednesday, 11 December 2013
C'mon people, it's just for Insta - Photo from: news.nationalpost.com
Since yesterday people have become increasingly upset due to Mr. Cameron's, Obama's and Helle Thorning-Schmidt (Danish PM)'s selfie during the Mandela remembrance service. I don't have a clue why.
As stated in my previous article, the public constantly criticises politicians and those in power due to them being 'out-of-touch with society', some going as far as stating that they are presented as 'beyond/above human' (either in a good or bad way, take your pick). And yet, as soon as they do something that anyone normal does, it's a scandal, or a disrespecting of Mandela, or whatever else you want to call it.
The death of Nelson Mandela was (and still is) hugely significant, and his remembrance service will go down as a historic event - if you're lucky enough to be there, why would you not take a few pictures? Are they not just as within their right to take a selfie as anyone else? I would suggest that many more people took selfies and the likes during the event, and none of them were out of disrespect for Mandela, rather they were acknowledgements of the enormity of the occasion and of the event.
Look at the South African people during the event: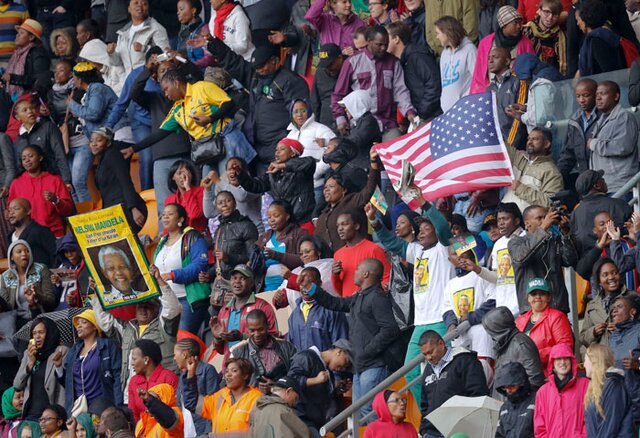 Photo from: judiciaryreport.com
They were standing; cheering; celebrating - because it was a 'celebration of the life of Nelson Mandela'. The spirit was not one of mourning, or regret, but rather of joy and happiness at what Mandela achieved; a tribute to his life and his impact. There were times where tears were shed by the crowd that I'm sure were also shared by the world leaders, judging by the pictures. And if you look at the photo you'll see plenty of people taking pictures or texting, and yet they don't get any grief for their actions. If we want politicians to be more human we have to start acting like they are.
More importantly, Obama gave a particularly heart-warming speech regarding the life of Mandela at the event (alongside other speeches), why should that be overshadowed by a few harmless pictures taken with friends?
Of anyone, I'm one of the first to condemn the actions of politicians and scrutinise their movements, however this is just pathetic.
We should instead be focussing on things like Obama's handshake with Raul Castro, also at the event, that holds much greater significance in the grand scheme of things than any selfie could have, or on the MPs increasing wages, or China's recent comments regarding Britain as just another useless European country. These things are all significant and important, and affect things on a much larger scale. Their selfie opportunity isn't - it does not take away from their ability to be politicians or leaders (in Cameron's case that ability is pretty debatable anyway), and they are not hurting, disrespecting or harming anyone.
The one thing I must say I love about the photo-set of their antics was, of course, Michelle Obama's face throughout - priceless.
So to conclude, rather than flaring up about the most insignificant things, maybe we should focus on what is actually important, and allow politicians to actually be humans.